Story Consultant Service:
Fix Your Story Problems Before They're Written!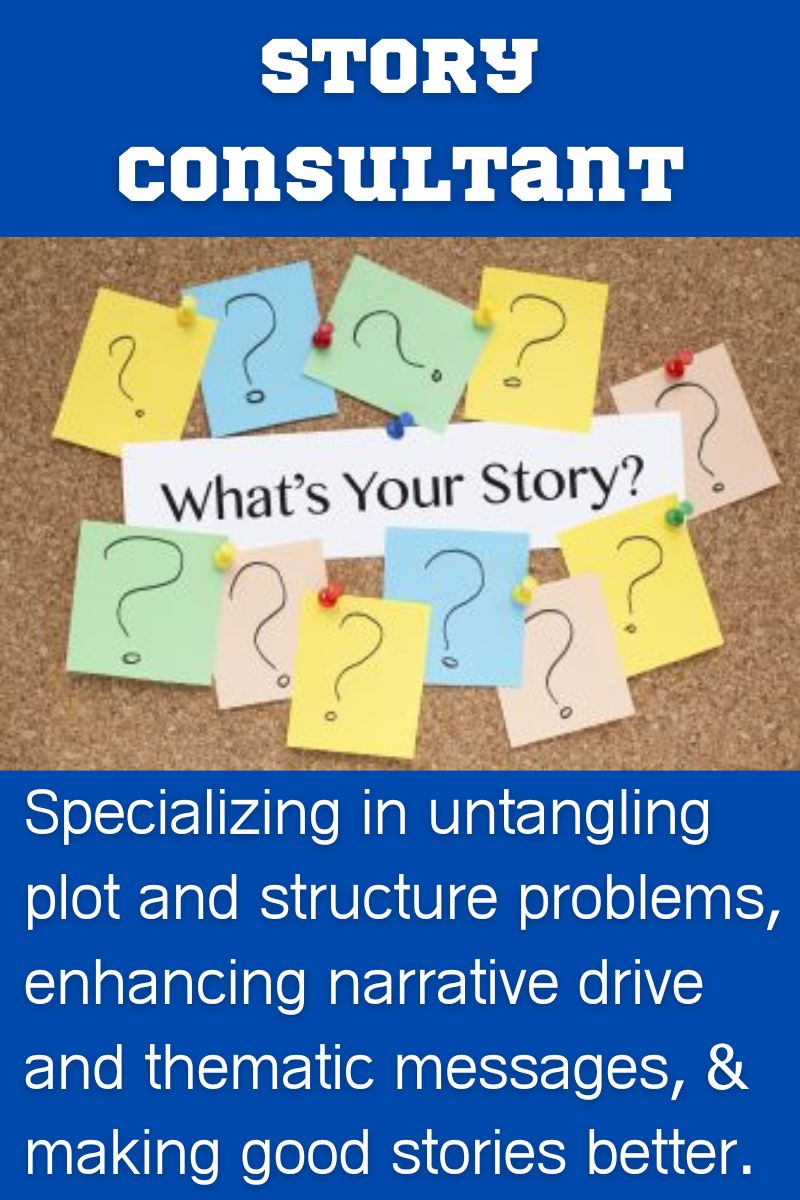 Glen C. Strathy is pleased to offer a story consultant service for writers seeking more in-depth advice and help developing the structure of their current novel-in-progress. (To request this service, use the form at the bottom of this page.) Below is his description of how the service works...

What is a Story Consultant?

A story consultant helps a writer develop the overall dramatic structure of a story and can help with situations such as...
Getting stuck in the story. Sometimes you may get half-way through a manuscript when you realize you haven't the faintest idea where to go next or how the story should end. A story consultant can help you nail down what the spine of your story is and help you find an ending that is the natural outgrowth of the beginning.
Finding a plot. Some writers are great at characterization, style, and voice... but not so good at creating a compelling plot. A consultant can take the plot points you have and identify ways to flesh out the story and create a stronger narrative drive.
Developing your main character's inner growth. Most writers know that developing the main character's inner conflict adds emotional depth to an otherwise plot-driven story. A consultant can help you structure the main character's arc in a way that connects properly to the overall plot making them integral to each other.
Revising an existing manuscript. Sometimes your first draft can contain plot holes – places where a key part of a dramatic arc is missing, resulting in less emotional satisfaction. Other times a manuscript can contain sections that really do not add to the story. A plot consultant can help you figure out what to cut and what needs to be fleshed out.
How do you know if you're ready to hire a story consultant?

You should have put a fair amount of thought into your story before seeking consultation. If all you have is a two-line premise or concept, then you're not ready. Spend some time developing your story and your characters first.
On the other hand, if you have done a fair amount of story development – for instance, if you have a several-page outline or most of a first draft written – then you may be at a stage where a consultation would be useful.
Am I the right Story Consultant for you?

Apart from my personal writing credentials, I have spent nine years teaching the principles of story structure and creative writing to adults and youth. This website features 70 of my articles on writing and story theory as well as answers to over 1,500 questions about plot, characters, genre, and other aspects of writing sent in by aspiring writers. Feel free to browse through these and decide for yourself if am the right consultant for you.

"This whole experience has been wonderful for me--you've taken a sincere interest in the story I want to tell and I feel that you've listened and tried to help me see how the Dramatica model can create a well-rounded story experience. I've learned a great deal of good from your insights."
-- Brian J. Anderl
How a Story Consultant helps you improve your story:

If you are interested in hiring me as your story consultant, here's how the process works...

You prepare a 2-5 page synopsis or outline of your story, as you know it right now. If you have not done this already, you may find this process alone will help you find and fix plot problems or clarify your ideas. In this synopsis, focus on the major events and turning points, the main character, and any major secondary characters. Ideally, your outline should cover the entire story from beginning to end. However, it's all right if you have some gaps. (Just to be clear, a synopsis is not "jacket copy." Don't hide plot points in order to create suspense. Include all the spoilers, even the ones you don't want the reader to ever know. In order to assess your story's structure, I need to know what you know about it, including what's going on behind the curtain.)
  Complete the Initial Consultation Request form below. Once I confirm by email that I have an opening in my schedule that works for you, send in your synopsis and the consultation fee of US$200.
I will send you back any questions I may have regarding your story. Some questions may be intended to clarify my understanding of your synopsis. Other questions may invite you to flesh out aspects of your story that you may not have considered so far.
If it turns out your story is already so well-structured that I don't feel I can offer any meaningful suggestions, your money will be refunded. 
Otherwise, once you have submitted your answers, I will send you a report outlining my thoughts and recommendations on how you might improve the dramatic structure of your story.
I will be happy to answer any questions you have about the report and the suggestions I've made by email.
You can then create a new synopsis or outline that addresses any shortcomings of the first version and will serve as a guide to your writing process.
Optional: for an additional fee of US$100, you may request a Follow-up Consultation. You would send me your revised synopsis and I will send you back his suggestions and comments on it, which will allow you to polish your story even further.
By this point, you should have a story you are much more excited about and a clear plan to guide you in the writing/revision of your novel.
You are free to use any ideas I send you -- or not, as you see fit. You retain complete ownership of your story and won't owe me another cent, ever. Also, anything you tell me about your story will be held in strictest confidence.
What I don't do...

I won't write your story for you. I will be your story consultant, but not your co-writer. I won't necessarily provide you with an exact solution to each specific plot point. But I will point out areas of your story that need development, suggest ways you could improve it, and try to nudge you toward a dramatically sound structure. I may suggest solutions, but that's all they are – suggestions. It's up to you to decide whether to use them or simply treat them as an example or a jumping off point from which you will look for an even better solution on your own.

I can't be your expert on everything. I can only comment on the dramatic aspects of the story, not the background material. (For example, if your murder mystery is bogged down on a technical aspect of forensics, you probably need the help of a forensics expert, not a story consultant.)
I won't tell you your story is worse than it is and then try to sell you additional editing or plot doctoring services. I'm here to help writers, not make a fortune exploiting their ambition. The fee I ask is compensation for the time I will spend on your story. Besides...
I don't edit. While some of the comments I make could be described as developmental, substantive, or structural editing, I do not consider myself to be an editor. I don't do line editing, stylistic editing, fact-checking, or proofreading. My concern is the big picture – the overall structure and the interplay between character, theme, and plot that make the story dramatically sound and compelling. That's why I ask you to send me a synopsis instead of a manuscript. You can find editing services elsewhere (prices generally range from $2-$8 for every 250-word manuscript page).
I won't tell you your story is better than it is and then try to sell you self-publishing services. That would be a conflict of interest. Besides, there are other businesses offering these services, if that's the route you want to go. (Personally, I think most novels stand a better chance of success via traditional publishing, but that's something you have to decide once you are confident you have a book worthy of being published.)
I will not share your story with anyone. You retain full copyright over your work. Once the consultation process is finished, I will erase any files or information you have sent me.
What I will do...

I will take the time to thoughtfully analyze the structure of your story as it currently stands and suggest ways of modifying it to increase its dramatic and emotional impact.
I will try to help you express your story in the most effective way possible.
That said...
You should know I work primarily with Dramatica theory (because it is the most complete and open-ended description of how stories work), but if the story warrants, I will also look at your story through the lenses of other models such as the monomyth (Hero's Journey) or other archetypal story forms.
Your first step...

If you would like me to be your story consultant, please fill in the form below. I will get back to you with a time frame and instructions. (Please note that if I get swamped with work, I may stop taking on clients for a time, in which case I will let you know.)