Follow Glen on Twitter...

---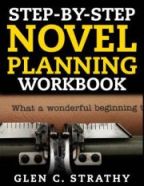 NEW! Step-by-Step Novel Planning Workbook

---
"I am so glad I found your site. It has helped me in so many ways, and has given me more confidence about myself and my work. Thank you for making this valuable resource, for me and my fellow writers. Perhaps you'll hear about me someday...I'll owe it to you." - Ruth, Milton, U.S.A.
"Thanks to your "Create a Plot Outline in 8 Easy Steps," I was able to take a story that I simply just fooled around with and went willy nilly all over, into a clearly defined, intriguing battle where two characters fight to keep their relationship intact, and try to find a balance in control of themselves and their lives. Thanks to you, I'm not ashamed of the poor organization of my writing." - Nommanic Ragus
"I never knew what to do with all the characters in my head, but since discovering Dramatica I am writing again in my spare time. Thank you for making this available. Yes, it is a bit complex, and it does take time, but I love it because it works." - Colin Shoeman
"I came across your website by chance. It is a plethora of knowledge, written in a simplistic way to help aspiring writers. I truly appreciate all of the information you have provided to help me successfully (relative term) write my novel. Thank you very much!" - Leo T. Rollins

"I can honestly say that this is the first website that is really helpful. You manage to answer complex questions in relatively short articles and with really intelligent answers. Thank you for taking the time to write these articles and sharing them so generously." - Chrystelle Nash